Blackmagic Design Mini Converter Heavy Duty 4K - SDI to HDMI
Brand: BlackMagic Design
Product Code: CONVMH/DUTYSH4K
Availability: Ships Within 2-14 Working Days
RM1,482.00 ( All prices inclusive 0% GST. )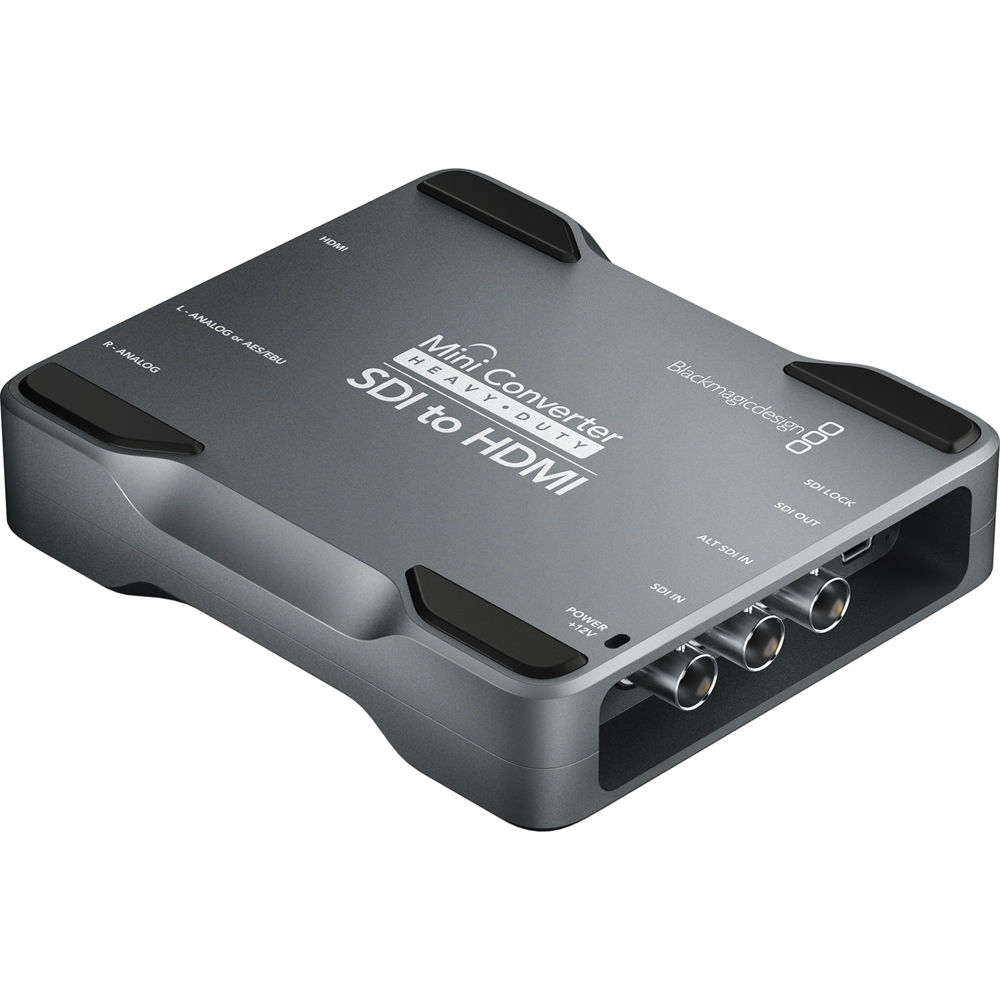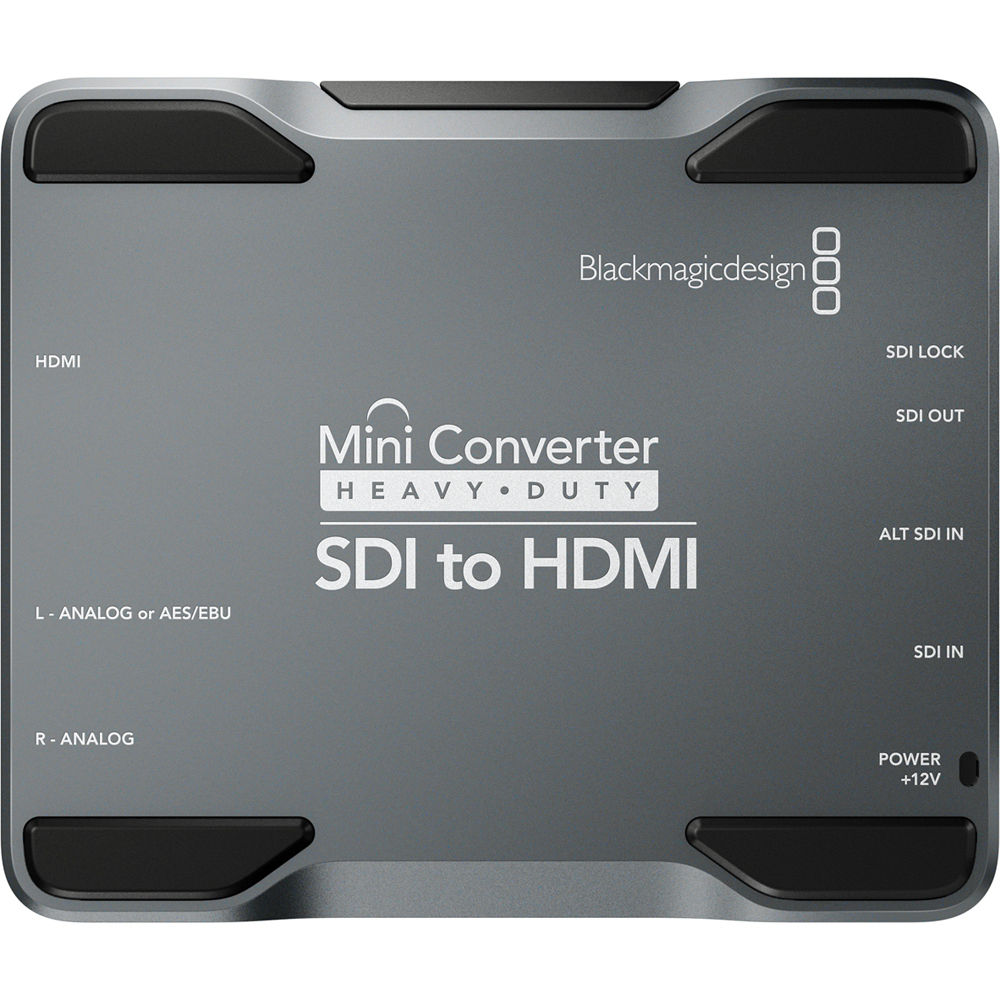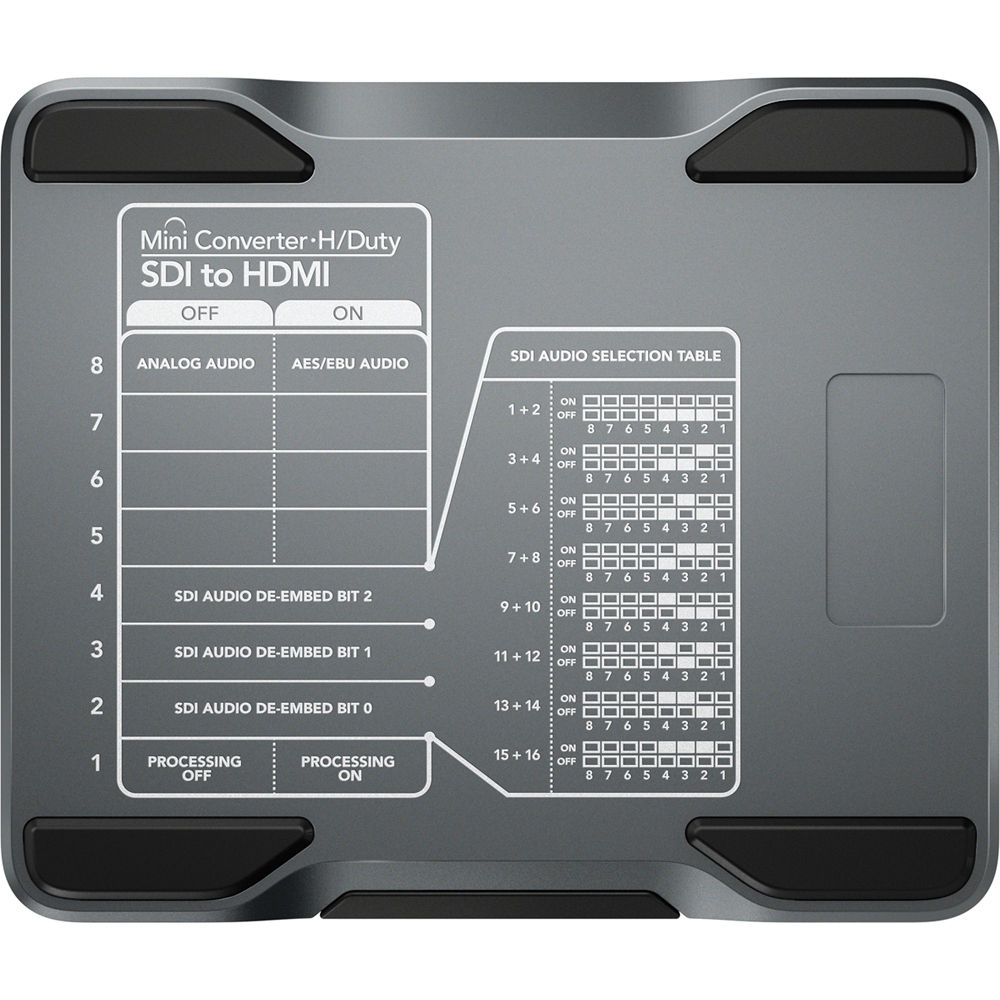 Overview

The Mini Converter Heavy Duty - SDI to HDMI from Blackmagic Design is an extremely rugged device that accepts a 3G/HD/SD-SDI signal via two redundant inputs and converts it to an HDMI output. From the SDI input signal you can choose to de-embed the audio to the balanced AES/EBU or L/R analog audio inputs. There's also an SDI loop output. Use this device to convert video from sources such as professional camcorders or I/O devices and output to affordable, high-quality HDMI displays for monitoring.
Converters in the Mini Converter Heavy Duty range are machined from a solid block of aircraft-grade aluminum and are generally designed to resist damage from rough use, whether outdoors or just in the course of live production. This super-strong Heavy Duty converter can withstand being run over by a truck and keep working. Its BNC and audio connections are protected by outcroppings of the aluminum body, unlike those on the standard Mini Converter line.
The converter features scratch-resistant laser-etched labeling, non-slip rubber feet, and a dust-resistant rubber boot that covers the mini configuration switches from dust and dirt.
Sophisticated I/O

This Mini Converter features auto SD/HD switching, auto-switching AES/EBU and balanced analog audio on standard 1/4" jack connections, and advanced 3 Gb/s SDI technology. It supports 24-bit analog and digital audio, HDMI audio, and de-embedding the input audio to the analog or AES/EBU audio outputs
High-Quality SDI

Mini Converters are built to the highest quality standards with low SDI jitter. You get the longest SDI cable lengths combined with ultra-low-noise analog video and audio for a true broadcast-quality solution. You also get broadcast technology such as re-clocking and 3 Gb/s SDI. A loop-through SDI output is also provided for connecting to other devices
Redundant SDI Input

This Mini Converter features a redundant input for mission-critical tasks such as broadcast or live events. You can connect a redundant cable to the second input, so if the main input is lost due to cable damage or any other cause, Mini Converter will automatically switch over to the redundant input cable. This lets you use Mini Converters in locations where crowds or the environment might cause cable damage, or lets you place Mini Converters in hard-to-reach locations such as roof-mounted video projectors. A loop-through SDI output is also provided for connecting to other devices. This loop-through SDI connection is also great if you need more than two audio channels, as you can connect the loop-through to another Mini Converter (sold separately) to de-embed extra audio channels
USB Upgrades

Upgrades can be loaded via the USB connection for future video format compatibility. Use Blackmagic's Converter Utility to make adjustments right from your laptop
Versatile Format Support

Mini Converters instantly switch between all SD and HD video formats whenever the video input changes. A huge range of standards are supported, including NTSC, PAL, 1080i59.94, 1080i50, 1080PsF/23.98, 720p59.94, and 720p50
Easy-to-Change Settings

With the Mini Converter's mini switches, it's as simple as using a pen to change the settings. With advanced 3 Gb/s SDI technology, every Mini Converter is fully compatible with your SD and HD equipment, and can be updated via USB. Use our Converter Utility to make adjustments right from your laptop
International Power Supply

A high-quality, low-noise universal power supply is included with international socket adapters for all countries. To stop power from being disconnected accidentally, a cable tie point is included to lock down the power connection tightly and securely

Specifications

Input
1x SDI (switchable between SD, HD & 3 Gb/s SDI; auto-detects SD or HD)
1x SDI redundant input (automatically switches over if main SDI input is lost)
Output
1x HDMI
1x SDI (automatically matches the SD, HD, or 3 Gb/s input)
2x Channels of balanced analog audio (via standard 1/4" jacks)
2x Channels of balanced AES/EBU digital audio (output shared with analog audio via one of the 1/4" jacks)
Updates and Configuration
Via USB 2.0 high speed (480 Mb/s)
Standards
SDI Format Support: 625p25 PAL, 525p29.97 NTSC, 1080PsF/23.98, 1080PsF/24, 1080PsF/25, 1080i50, 1080i59.94, 1080i60, 720p50, 720p59.94, and 720p60
HDMI Format Support: 625p25 PAL, 525p29.97 NTSC, 625p50 PAL, 525p59.94 NTSC, 1080p23.98, 1080p24, 1080i50, 1080i59.94, 1080i60, 720p50, 720p59.94, and 720p60
Compliance
SDI: SMPTE 292M, SMPTE 259M, SMPTE 296M, ITU-R BT.656, and ITU-R BT.601
Video Sampling
SDI: 4:2:2
Audio Sampling
SDI: 48 kHz and 24-bit
Color Precision
SDI: 4:2:2
HDMI: 4:2:2 and 4:4:4
Color Space
SDI: YUV
HDMI: YUV and RGB
Re-clocking
Yes
Settings Control
Mini switches or USB software
Firmware Upgrade
Via included firmware updater application
Power
12V DC (universal power supply included, with international socket adapters)
Power Consumption
110V: 82mA
220V: 41mA
Dimensions (HxWxD)
Not specified by manufacturer
Weight
Not specified by manufacturer

In The Box

Blackmagic Design Mini Converter Heavy Duty - SDI to HDMI
Power Supply with International Socket Adapters
3 Year Limited Warranty