Blackmagic Design DaVinci Resolve 15 DOngle
RM1,439.00 ( All prices inclusive 0% GST. )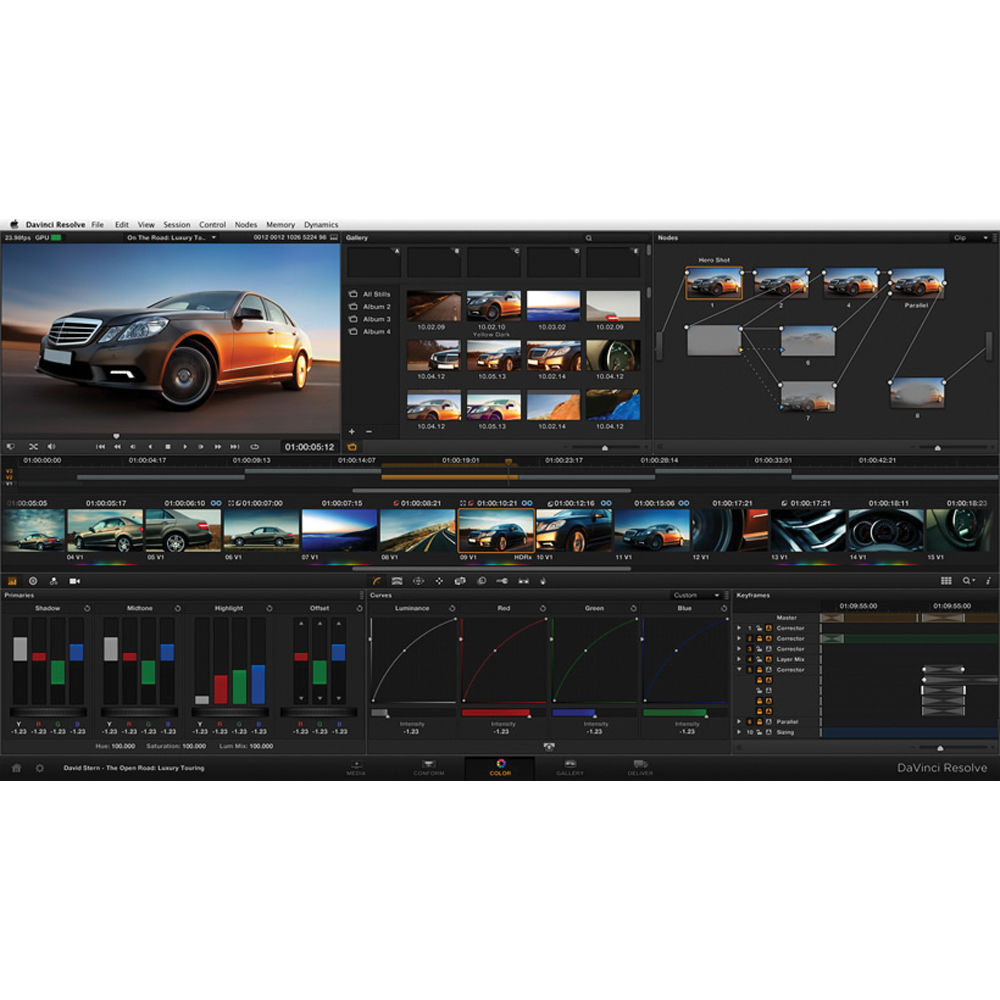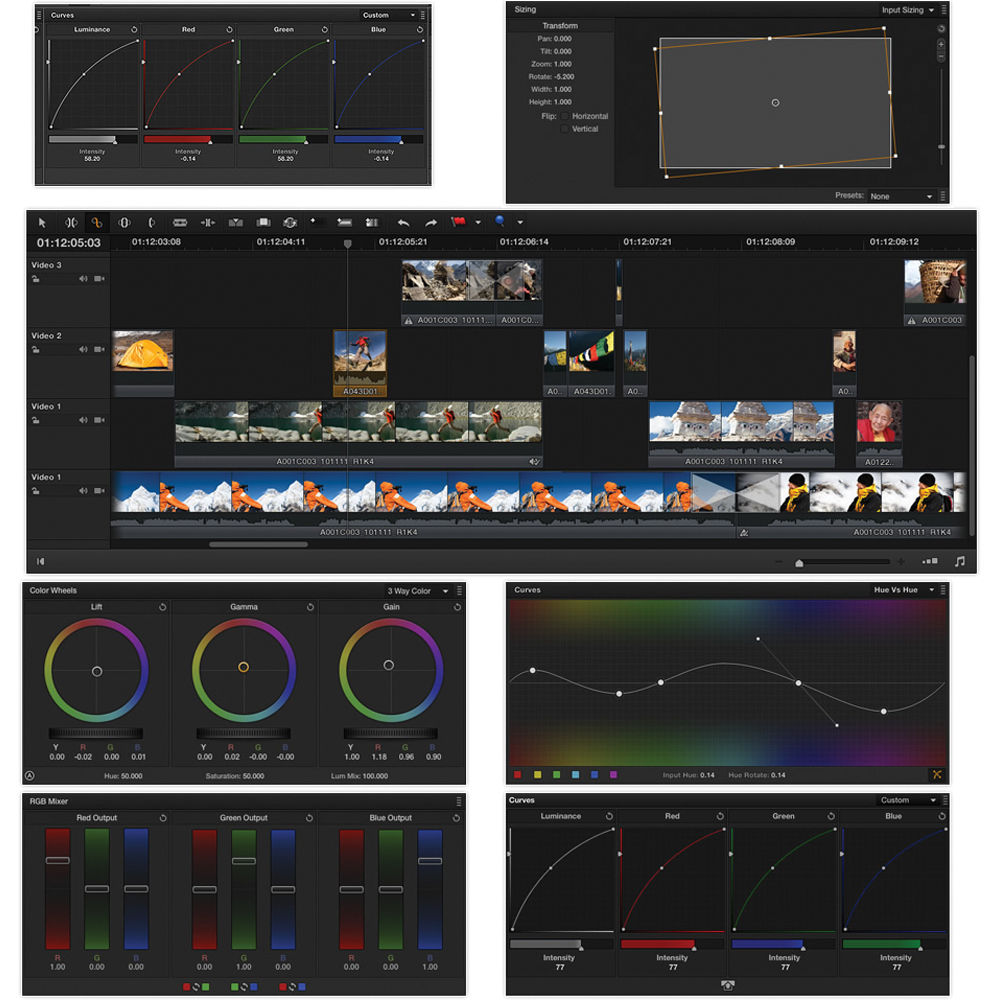 Overview

The Blackmagic Design DaVinci Resolve Color Correction Software, in addition to featuring many new functions, tools, and performance upgrades, also has a very much re-designed interface. Many software makers have not long ago begun redeveloping their applications to be more user-friendly and more efficient, and Blackmagic has done the same with Resolve. Where you previously likely had to go to school to learn Resolve, now you can learn a lot of its workflow on your own.

Resolve can natively be operated by keyboard and mouse, or you can instead use one of many compatible control surfaces, including Blackmagic's award-winning DaVinci Resolve Control Surface, a Tangent Devices Wave or Element Panel, JL Cooper's Eclipse CX, and Avid's Artist Color, or, simply in addition to your keyboard and mouse, a tablet and pen, like Wacom's Bamboo Tablet.

Resolve comes to you in a package including an installation disc and a user key dongle. The disc features the Mac version of Resolve. If you want the Windows version, disregard the included disc and download the Windows version from Blackmagic's website (from the "Support" page), and then active the software with the included dongle. The Windows version is compatible only with Window 7 64-bit. The "Support" page may at first allow you to think otherwise because it also lists Vista and XP as the possible options, but the listing is not Resolve-specific (you'll see a drop-down wherein you can select Resolve). Whether you're interested in the Mac or Windows version, you should disregard the included installation disc either way because it is surely not as up to date as the downloadable version of the software.

Please note that owners of Resolve 8 or 7 can download the new version free of charge on Blackmagic's website.
What's New in DaVinci Resolve
New Fast-to-Use Interface Design

Larger full color palettes with direct user access to more tools for faster grading
One click selection for fast switching between timelines
Three timeline appearance selections to show re-sizable timeline tracks and thumbnails, with optional audio waveform, flags and markers
Expandable timeline view for long edit sessions
Bigger and clearer text to ease eye strain
Drag and drop effects from the Effects Pool
Add flags to clips for quick and easy sorting and filtering
Resizable gallery stills stored and displayed in user-named albums
Includes 44 'Looks' for fast grade selection
Streamlined project import, export and selection workflow with just five screens that step you through each project
Selection of timeline available on Conform and Color page
New Login, Project and Clip Management Tools

Scroll thumbnails to select user login or just type the user name
Browse and select projects with scrubbable thumbnail or list view
Double-click thumbnails for fast project loading
Search projects by name or format
Sort projects by name, creation, modification date or frame rate
Project count displayed per user in thumbnail and list view
Browse and select clips in the Media Library with resizable and scrubbable thumbnail or list view
Sort and search folders and clips
Hover over clip to reveal metadata
Embedded audio icon indicates which clips have audio
Media Pool now easily managed by dragging and dropping clips and bins
Media Pool now has consolidated clip attributes controls permitting concurrent modification of multiple clip elements for multiple clips
Media Pool list view now also displays input LUT, PAR, video/data level, frame rate and audio channels
Capture-from-tape includes Log and Capture, Batch Clips, and Capture-Now options
Projects can now be saved in a project-based file database with optional database server
New Dailies, Audio, Conform and Editing Tools

Mixed source clip frame rate support option for simplifying XML and AAF workflows
Insert, Overwrite and Edit Ripple support
Blade tool for applying multiple cuts
Support for amending timeline start timecode
Templates for user-selectable keyboard shortcuts matching popular editing functions
Support for speed warps from FCP XML and Avid AAF with handles
Ability to auto-import AMA linked Red R3D clips with AAF
Trim RED R3D clips to new extents with handles
100+ production metadata fields for entering on set shot notes
New Color Correction Tools

New Log, Camera Raw, Stereoscopic 3D, Tracker, Sizing and Data Burn-in palettes for faster access and grading
Log grading includes Lowlight, Midtone, Highlight and Offset in every corrector node concurrent with traditional DaVinci 3-way grading
Log palette also includes Contrast and Pivot with low and high range controls
One click generation of LUTs from the clip grade
Nodes can now be named; linking nodes is much faster
Primary Control palettes now includes Master Gain
Camera Raw palette offers real time direct control with Image Debayer and Decode settings optionally saved as a part of the grade version
Window and Key palettes display the selected windows, key shape and position
Tracker palette displays editable keyframe timeline
Stereoscopic 3D palette offers Floating Windows and also separate Viewer, Monitor and Waveform Mesh selections
Additional and faster automatic stereo 3D image alignment tool
Data Burn-ins palette for source clip and traditional track burn-ins now includes multiple custom text and logos and user selectable fade up and down times
Sort and filter thumbnail timeline shots by flags, markers shots modified recently
Clips in the RGBA format can now use the Alpha channel for matte
Alpha clip type is selectable for each source clip
Input LUTs are selectable for each source clip
Easy application of Gallery memory/still grade to multiple clips
Version name presets to improve selection speed and accuracy
Double click timeline thumbnail version name to see clip codec
Clip details window now includes EDL comments, clip description and notes
Improved tracker accuracy with non-square PAR images
ACES v0.1.1 support
ADX10 IDT support
New Viewer Modes

Automatic switchable viewer to SDI video output with synced audio
Full screen viewer mode for accurate review of Windows and Qualifiers
New cinema mode offers a clean full screen so you can sit back and enjoy a preview of graded material
Dedicated screen for creating rendered deliverables includes large viewer and timeline
Video scopes now available in 1, 2 and 4 up display, including optimized trace display
Video scopes include pan and tilt control using the mouse scroll function and Option/ Alt + scroll for zoom
Video scopes include a 4:3 and 16:9 aspect ratio option
4K monitoring with DeckLink Quad SDI
New Deliver Screen for Rendering and Edit-to-Tape

User-configurable easy setups can now be saved and recalled
Concurrent renders can be generated for multiple format dailies deliverables
Simple text name burn-in for dailies deliverables
Force Highest Quality Debayer and Resizing setting when rendering clips
When in Source render mode, clips can be rendered with a specific starting frame number
Batch Render Queue shows job status
Edit-to-Tape mode for fast transfer of jobs to tape
Support for Anaglyph stereoscopic 3D rendering
Support for timeline filters to select clips for render
New and Improved Codec Support

Encoding and decoding DNxHD in a QuickTime wrapper
Improved decoder performance for uncompressed MXF on Linux
Improved CinemaDNG, ARRI Alexa and Sony F65 debayer performance
Canon C500 camera codec support
Improved Phantom Cine decoder
New Performance Optimization

Resolve for Mac is now a 64-bit app for faster operation with more clips
Improved performance for single GPU systems
Optimized display mode during playback improves speed for reduced performance systems
Dramatically increased render speeds for a number of codecs
Hot plug and play for external USB drives on Mac OS X
GateKeeper signature for Mountain Lion security support
General performance and stability improvements
Features Elaborated On
Unlimited Grades

DaVinci Resolve uses node based processing where each node can have color correction, power windows and effects. You can join unlimited nodes sequentially, or in parallel to combine grades, effects, mixers, keys and custom curves.
Powerful Primaries

Get perfect looking images with the world's most powerful primary color corrector for setting lift, gamma and gain with the control of YRGB colorspace. Primary control includes shadows, midtones and highlight log controls with offset.
Precision Secondaries

Target specific colors or areas of the image with secondary color correctors. DaVinci Resolve includes precise color qualification that lets you target colors with clean edges so no matter how complex your grade, it always blends seamlessly.
Optical Reframing

When you need to reframe a shot, it's vital that you don't loose quality. DaVinci Resolve includes optical quality sub pixel processing so when you reframe, or even zoom into a shot, quality is retained. This lets you fix shots with full quality.
Image Stabilizer and Tracker

Includes the world's most powerful 3D tracker for locking Power Windows to on screen objects. No more time wasting on keyframe generation! You can also image stabilize to clean up shots that would otherwise be unusable!
High Dynamic Range

DaVinci Resolve supports HDR source images with real time display, blending and grading for incredible control over your shot. DaVinci Resolve also supports the 16-bit floating point ACES colorspace so you get full quality and dynamic range.
RGB Mixing

For extreme looks and innovative creative styles, DaVinci Resolve supports RGB mixer grading to control individual red, green and blue gain for each color channel, blend and mix channels. You can even swap inputs for extreme effects.
Custom Curves

When you're after subtle control, custom curves let you define a custom gamma curve that's applied for your corrections. This can be ganged for all channels or set per channel. Custom curves also support YSFX luminance and saturation effects.
HSL Curve Grading

Curve grading is a very popular grading method and lets you adjust colors on a curve graph with a workflow that's similar to grading with popular editing software. You can control high and low clip per node, and set high and low clip softness.
Power Windows

Invented by DaVinci, Power Windows revolutionized grading. DaVinci Resolve features unlimited windows with circle, linear, polygon and PowerCurve shapes. Windows have mask control with inside and outside grading and full multi point tracking!
Real Time Noise Reduction

When running powerful CUDA based hardware with DaVinci Resolve, you can take advantage of digital noise reduction. DNR is perfect for removing noise in digital cameras, and you can even apply noise reduction within Power Windows!
Keyframe Timeline

The built-in keyframe timeline lets you see color corrections, shot framing and transitions in a separate timeline per clip. You can adjust every grading parameter with auto key-framing and adjustable dynamics.
Color Decision Lists

DaVinci Resolve supports ASC color decision lists including full slope, offset, power and saturation metadata. All CDL events are synchronized with EDL events including additional support for stereoscopic 3D size data.
Gallery Stills and Grades

When you're grading, it's important to keep stills from earlier in the job so you can compare shots to keep your grades consistent. DaVinci Resolve's Gallery lets you quickly save and share stills and also copy color grades from your work.
Dailies and Metadata

For on set editing and grading, DaVinci Resolve includes dailies tools for syncing audio and to manage and edit metadata. The one click sync links full quality camera images with system audio for quick on set grading, preview and render.
3D and 1D LUT Support

Work with 1D and 3D LUTs simply and easily. DaVinci Resolve supports open standard .cube files and you can add LUTs for input, output and display, or even a LUT for every node! You can even create a 3D LUT from any grade with a single click.
Copy and Paste Grades

When you're working with media shot on the same location, with the same camera, then the copy and paste grade feature dramatically speeds up your work. Copy grades to any clip, or even a range of clips, and even copy camera raw metadata.