Datavideo TP-500B DSLR Teleprompter Kit for iPad and Android Tablets with Bluetooth Remote (WR-450)
Brand: DataVideo
Product Code: KBM1026
Availability: Ships Within 2-14 Working Days
RM4,630.00

RM4,490.00

( All prices inclusive 0% GST. )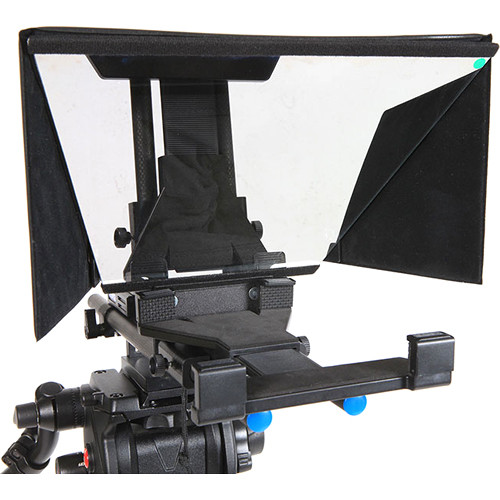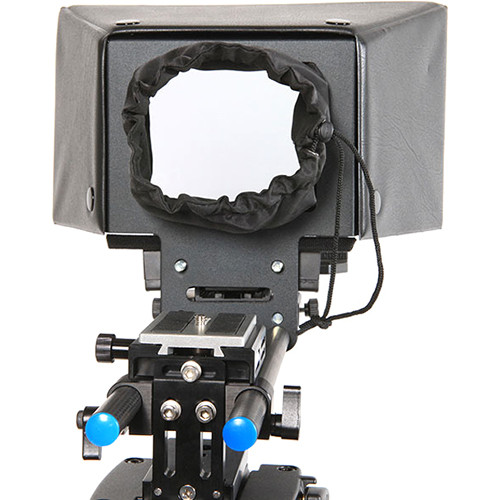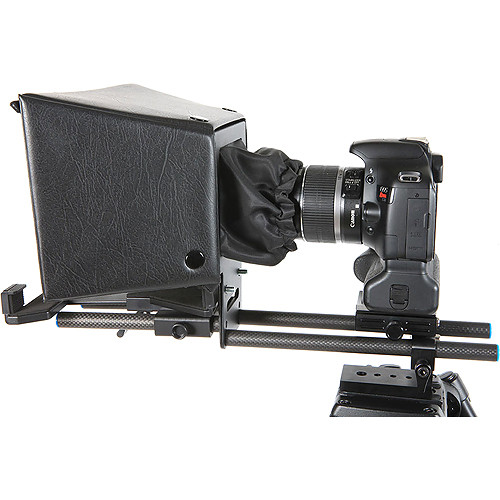 PRODUCT HIGHLIGHTS
Adjustable DSLR Camera Plate




Supports iPad/Android Tablets




Bluetooth/Wired Remote Control




60/40 Partially Silvered Mirrored Glass




Two Riser Plates Included




Standard and Below Lens Mounting Option




Reusable Custom Cut Case Foam


DESCRIPTION
The Datavideo TP-500B DSLR Prompter Kit for iPad and Android Tablets with Bluetooth/Wired Remote is built for use with DSLRs and works with your iPad or Android tablet running Datavideo's free DV Prompter software, and the included remote control is approved to work with the downloadable DV Prompter software. The prompter's cradle is adjustable, allowing it to accept tablets ranging from 4.1" to 7.8" wide. The prompter uses 60/40 partially silvered glass to reflect the text from your iPad toward the talent. The glass is labeled with red and green stickers that identify which side faces your camera's lens when you first assemble the unit, or after removing the glass for cleaning.
The prompter features an adjustable height camera platform for mounting your DSLR, and centering it within the prompter glass. Hook-and-loop fasteners allow you to attach the lens hood to prevent light from flaring the mirrored glass. When shooting exteriors, you can attach the included side curtains for additional protection from glare. The adjustable iPad/tablet cradle can be mounted in standard prompting position or in a below-the-lens configuration if the situation presents itself.dd
The included remote can connect to your tablet by Bluetooth or wired connection. To connect the remote to your tablet, use the 9' long cable. Charging of the remote is accomplished via an optional USB charger or by connecting it to your computer via the included USB charging cable.




Please Note: The remote only supports the free downloadable DV Prompter software, and is not known to work with other software.




The prompter is designed to be used with DSLR cameras, and features an adjustable camera plate for centering adjustments.




For use with select iPads and Android tablets.




Strong and rigid prompter frame fixes securely to any standard tripod quick release plate.




Prompter frame is designed to allow standard, or below-the-lens prompting.




Black camera hood is adjustable to adapt for a wide variety of cameras.




Quick, and simple assembly that requires no special tooling.




Flexible mounting bracket system allows simple but secure installation of a tablet.




The foam that comes in the shipping carton can be removed and placed in an optional HC-500 storage case.



IN THE BOX
Datavideo TP-500B DSLR Prompter Kit for iPad and Android Tablets

Carrying Case

Wireless Bluetooth Remote Control for Teleprompter (WR-450)

Removable Control Cable (9')




USB Charging Cable




2 x 15mm Carbon Fiber Rod (9.1")




15mm Carbon Fiber Rod (5.9")




Hood Frame with Hook and Loop Straps




Screw Plate




Mounting Plate with Hooks for Adjustable Tablet Holder




Adjustable Tablet Holder




Lens Snood




Folding Hood with Press Studs and Hook and Loop Straps




60/40 Mirror Glass




Micro Fiber Cloth Pouch




Plastic Card Glass Removal Tool




Spare Screw




Retail Carton with Removable Protective Foam Packing




Limited 1-Year Warranty
SPECIFICATION
Reading Range
9' / 3 m
Remote Control

Bluetooth


Range: 9' / 3 m
Battery Life: 3 to 6 hours depending on usage
Charging Time: 90 minutes



Wired


Cable Length: 9' / 3 m
Battery Life
Prompter Remote Control Battery Life: 2 years at average usage
Mounting Bracket Size
4.1" / 105 mm (minimum tablet width)
7.8" / 198 mm (maximum tablet width)
Dimensions
10.6 x 8.3 x 18.1" / 270.0 x 210.0 x 460.0 mm
Weight
Teleprompter: 3.3 lb / 1.5 kg
Remote Control: 0.77 oz / 22 g
Packaging Info
Package Weight
4.45 lb
Box Dimensions (LxWxH)
12.8 x 8.9 x 3.2"