Key Features
1080p60 Resolution
1600 cd/m² Brightness
HDMI Input & Loop Output
Support for up to DCI 4K Video, 3D LUTs
Histogram, Vectorscope & More
DC & USB-C Power Inputs | DC Output
L-Series Battery Plate
Rear Bracket for Attaching Transmitters
Add a high-resolution monitor to your 4K camera with the F5 Pro X 5.5" High-Brightness HDMI Touchscreen Monitor from FeelWorld. It features an improved 1600 cd/m² brightness, 1080p60 resolution, and 1000:1 contrast ratio. It includes 3D LUT support with four built-in LUT profiles, and up to 32 custom 3D LUTs can be loaded by the operator via an SD card.
The F5 Pro X features an upgraded 1600 cd/m² brightness touchscreen, which allows you to zoom in or out with a pinch gesture to view closer detail in your images. The monitor has an HDMI input and loop output, and it supports up to DCI 4K video signals, as well as a headphone output for audio monitoring. Via the internal menu, touchscreen functionality can be turned off to prevent accidental swipes and other touchscreen commands, and you can then use the buttons on top of the monitor. For accurate exposure, focus, and other characteristics, the F5 Pro X is loaded with monitoring features such as vectorscope, histogram, anamorphic mode, and audio level meters. Its 3D LUT support allows you to utilize its four built-in Log LUTs when you're viewing Rec. 709 video, or you can upload up to 32 user LUTs using the USB input to utilize a variety of looks and camera formats.
Multiple power options include a DC barrel input port for an optional power adapter, a 5 VDC USB-C port for connecting a USB power bank, and an L-series battery plate on the rear. There's also an 8.4 VDC barrel output port that allows you to power external devices such as cameras and accessories using a separately available cable. The monitor provides multiple 1/4"-20 mounting threads, so you can attach the monitor as it best suits your needs. There's one on the bottom, top, right, and middle rear. A 1/4"-20 to shoe mount tilt arm is included for attaching the monitor directly onto your camera and adjusting the tilt angle as needed. The tilt arm also offers an additional shoe mount on the side for mounting a mic or other accessory like the included LED light.The F5 Pro X also comes with an installation bracket secured on the back that allows you to attach transmitters, converters, and other devices. Also included is a sun hood for better viewing in bright outdoor conditions.



5.5" 4K HDMI Field Monitor
Compact, portable,high brightness, 4K HDMI, easy to focus, accurate expose,flexible power are the advantages of F5 PROX.Level up creation for photographer, 1st AC and content creator.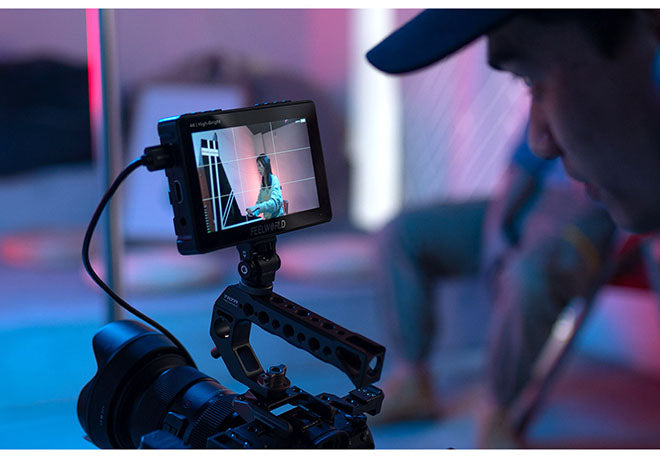 Full HD IPS Panel
Viewing clearly and capture every detail with confidence
With extremely high resolution IPS panel, 16.7M(8bit) color gamut, provides excellent details,accurately reflect the original colors.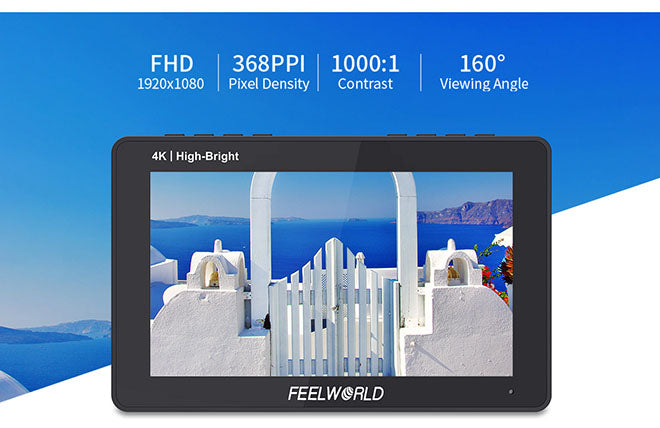 1600nits, Daylight Viewable
Backed by 1600nits of brightness, F5 PROX isn't afraid to get a little sun. The screen visible clearly even outdoor shooting, no need to use sun-hood.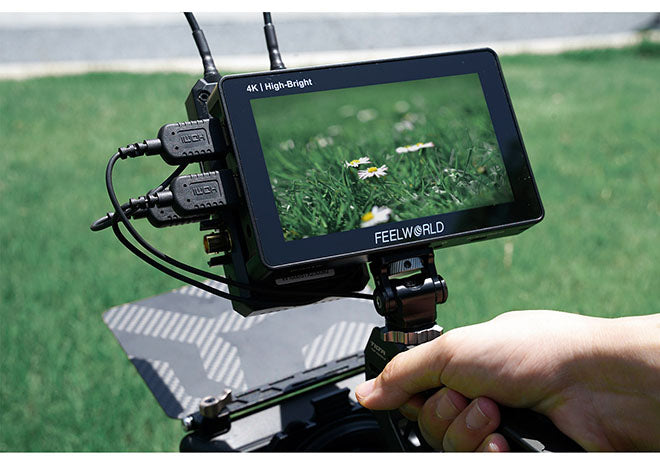 Sensitive Touch Screen Control
The innovative touch screen LCD user interface provides incredible control. You can use simple tap and swipe gestures for the important monitoring functions without buttons.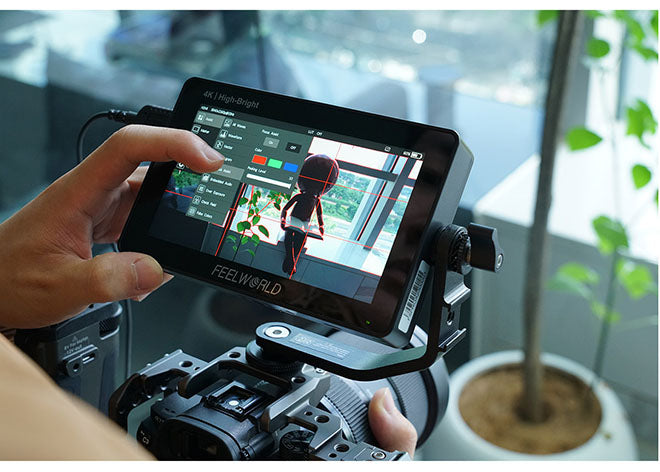 Buttons Setup, More Option
Except touch control, you can also choose to use physical buttons for operation. In addition, there are three custom shortcut function keys (F1-F3) , you can be set as commonly used function keys, and the desired functions can be achieved with just press, improving shooting efficiency.

Professional Auxiliary Tools, Help You Focus and Exposure Accurately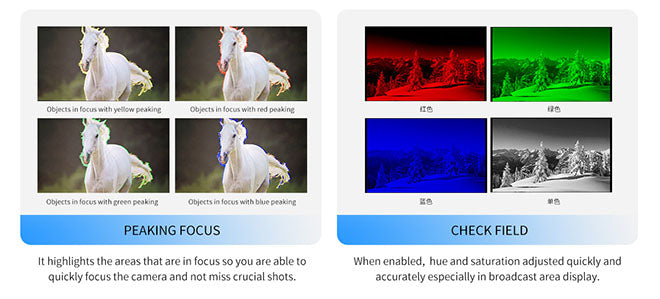 Load Custom 3D LUTs,Preview Filming Look in Field Shooting
Supports upload 32 custom LUTs
3D-LUT is a table for quickly looking up and output specific color data. By loading different 3D-LUT tables, it can quickly recombine color tone to form different color styles. Built-in 4 DE-log LUT , you also can load the custom .cube file via USB flash driver (up to load 32). Insert the USB flash driver to the standard accessory Type-C to USB adpater, then connect with Type-C interface of F5 PROX.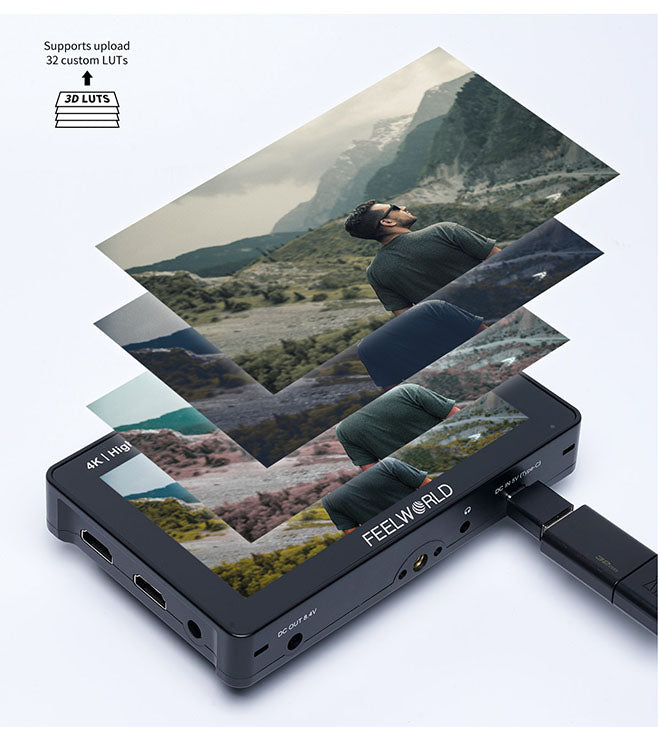 Accurate waveform monitoring
Save your budget
Built-in waveform monitoring, you can choose from waveform (RGB Parade, YUV Parade, Y Parade), vector scope, histogram, audio phase and level displays, and get broadcast accurate waveform monitoring that shows everything you need to know technically about your video and audio signals. The functions can be opened separately, and also support one key to open all scope mode . F5 PROX becomes the ideal choice for live production monitoring, so you no longer need to use a separate expensive scopes!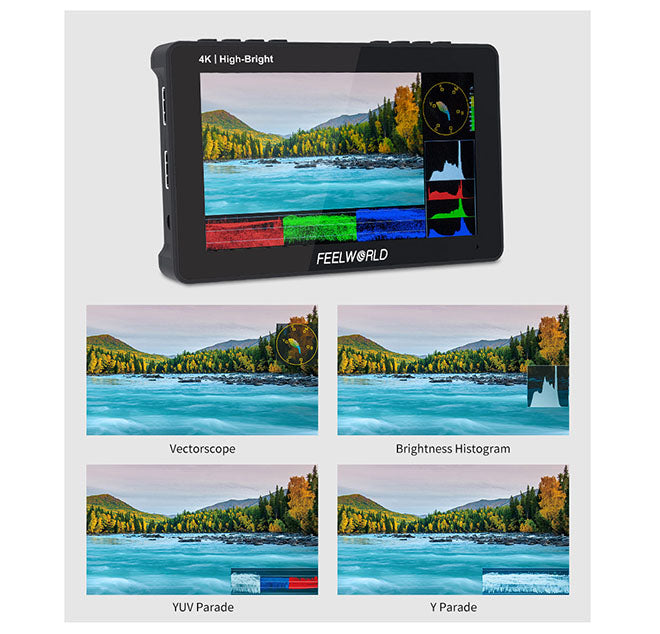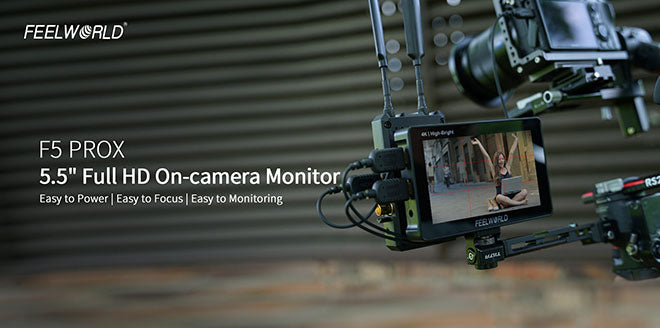 4K HDMI Input and Output
Support 4K@30Hz signal input and output, transmitted without loss,and the screen is clearer.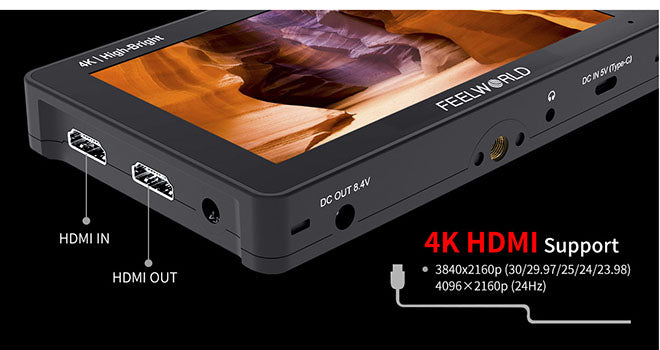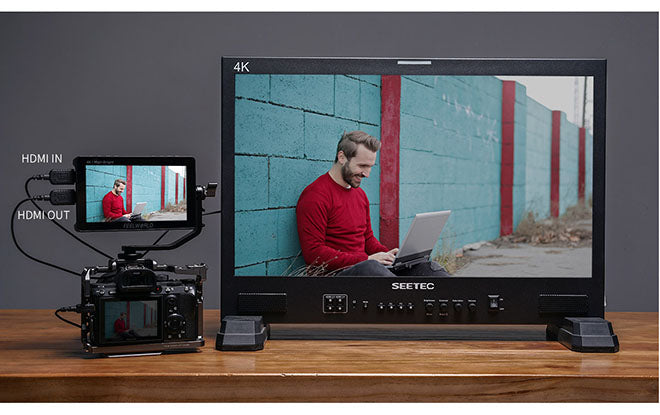 F970 External Install and Power Kit
Simplify your Filming Equipment
A Sony F970 external install and power kit design is added to the back of the monitor. The external kit can be used to install and install the external equipment, like wireless transmission, LED light, video converter and others that can be powered by a Sony F970 battery. This innovative external power supply design meets the need to power for external wireless transmission, LED light and other equipment, greatly saving the space occupied by the equipment and reducing the weight of filming equipment.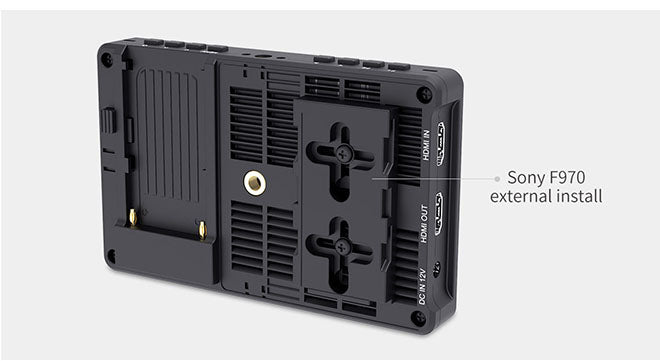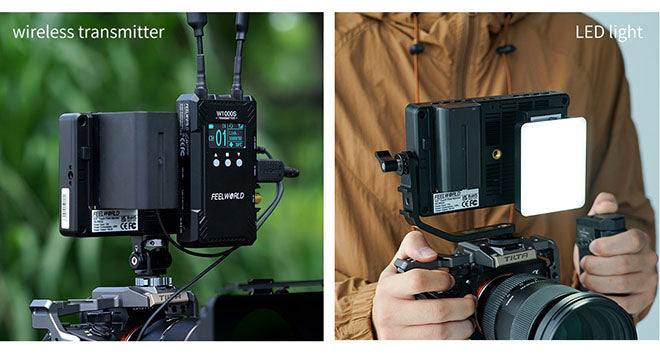 DC OUT, Power Your DSLR or Mirrorless Camera
F5 PROX provides auxiliary power out, allowing shooters to power their cameras. With a battery adapter cable (Optional), the F5 PROX extends camera run-time, while providing a more usable display.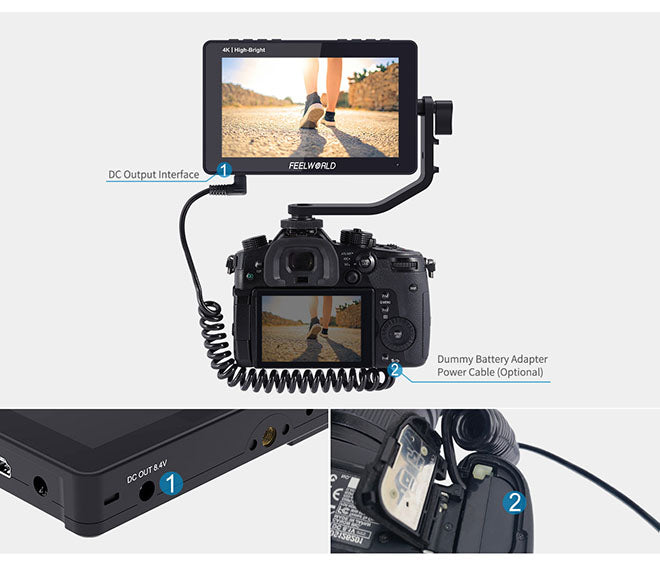 Multiple Power Supply Ways
In addition to the power supply through the F970 battery plate and 12V DC power input (can be using 12V/1.5A adapter), it also supports 5V Type-C input, which can be powered by mobile phone charger or power bank. (At least 5V/2A).
● Compatible Sony NP-F Battery: F970 F960 F950 F930 F770 F750 F730 F570 F550 F530 series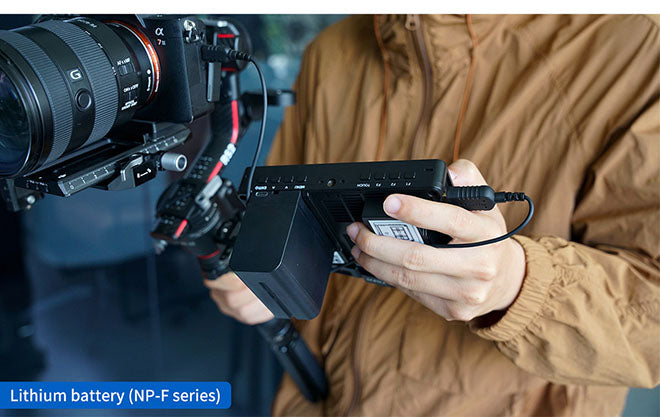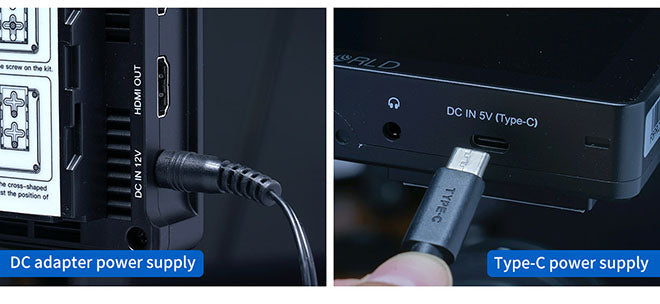 Multi Languages Support
F5 PROX built-in up to 11 languages, meet the different needed.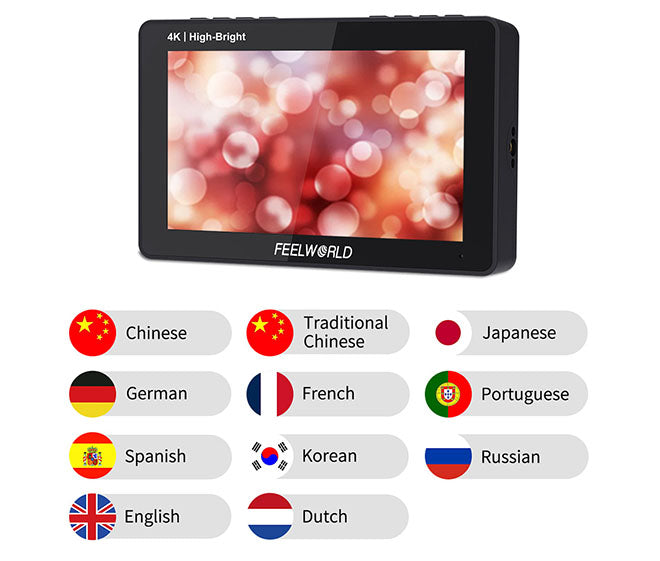 Multiple Mounting Points, Meet Different Need of Monitoring
The monitor features 4 standard 1/4" mounting threads (top, bottom, right side, middle back), you can easily mount it on the camera or other types of equipment with a magic arm, bracket, etc.. Whether it is horizontal or vertical shooting, you can accurately monitor.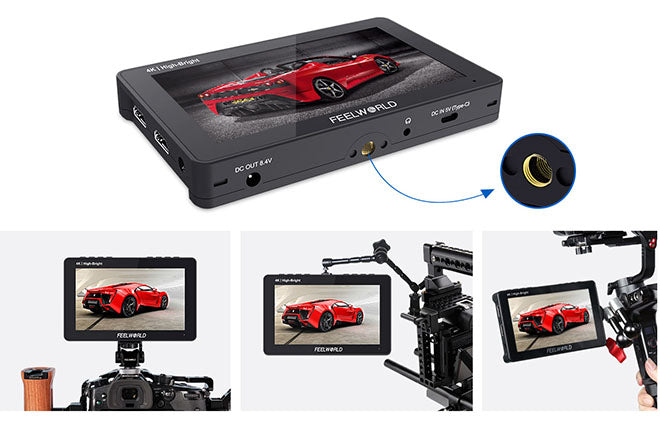 Convenient Mounting - Tilt Arm
The monitor will ship with a cold shoe mounted Tilt Arm. Shooters will have a secure way to position their monitor while maintaining a low profile.
• Allows F5 PROX to rotate 360 degrees for viewing convenience
• Secure and lightweight mounting via shoe mount or 1/4"-20 thread
• Includes a shoe mount of its own for accessories like a microphone, LED light, or wireless receiver, etc.
• There are two small dots on the tilt arm, which are aligned with the monitor for installation, the connection is more stable, just grab the monitor to rotate without loosening the screws.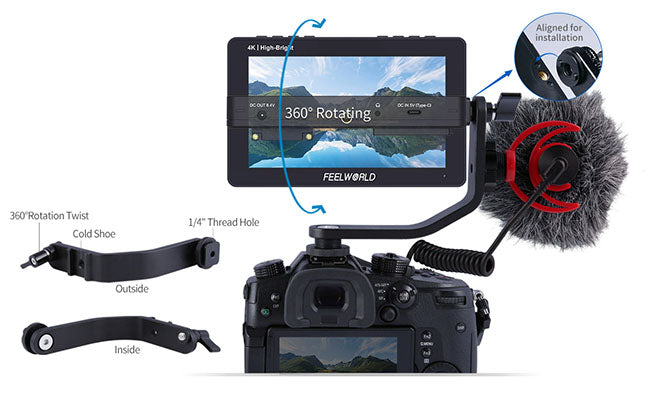 Portable Sunshade, Easy Install
You also can use the sun-hood resist strong light when outdoor shooting. It is easy to install and portable.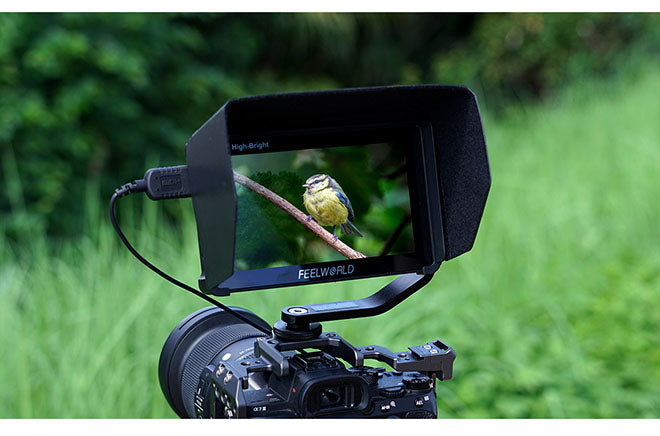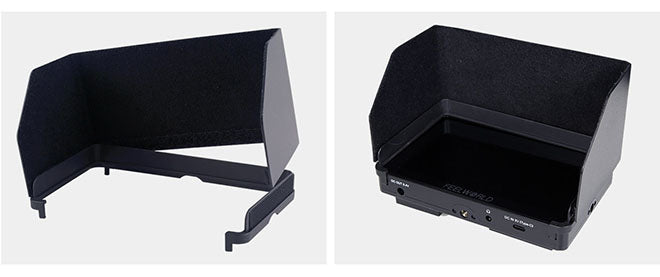 FEATURES
* 5.5-inch 1920x1080 full HD IPS screen
* Touch screen and intuitive button operation, meet different needs.
* High Brightness 1600nits, visible in sunlight
* Supports 3D LUT Log to REC.709 and user 3D LUT upload (up to 32).
* Sony F970 external install and power kit design can be used to install and supply power to external equipment, easy to install and disassemble, simplify your photography equipment.
* All waves
* Waveform (RGB, Y, YUV)
* Histogram(RGB1, Y, RGB2)
* Peaking Focus Assist (Red,Green,Blue three colors optional highlight over parts of the image in focus)
* False Colors
* Zebra Exposure
* Nine Grid
* Scan Mode (Under Scan, Over Scan)
* Zoom (2x,4x,9x,16x)
* Anamorphic Mode (1.3x, 2.0x, 2.0x mag, User-defined adjustment: 1.20X~2.00X)
* Pixel to Pixel
* Center Marker
* Safe Area (80%,85%,90%,93%,96%,2.35:1)
* Ratio marker (4:3,13:9,14:9,15:9,16:9,1.85:1,2.35:1)
* Marker Color (Red,Green,Blue,White,Black)
* Check Field (Red/Green/Blue/Mono)
* Image Flip (H, V, H/V)
* Image Freeze
* Color Temperature Adjustment
SPECIFICATIONS
| | |
| --- | --- |
| Model | F5 PROX |
| Screen Size | 5.5" IPS Touch Screen |
| Resolution | 1920x1080 pixels |
| Pixel Pitch | 0.069 (H) x 0.069 (V) mm |
| Aspect Ratio | 16:9 |
| Brightness | 1600cd/m² |
| Contrast Ratio | 1000:1 |
| Backlight | LED |
| Viewing Angle | 80°/80°(L/R) 80°/80°(U/D) |
| | |
| --- | --- |
| 1 X HDMI | HDMI |
| 1 X Type-C | 5V Type-C (Note: please use 5V/2A or more than 2A Type-C power supply) |
| | |
| --- | --- |
| 1 X HDMI | HDMI |
| 1 X DC Output | DC Output |
HDMI Input/ Output Support Format
480i/576i/480p/576p
1080i (60/59.94/50)
720p (60/59.94/50/30/29.97/25/24/23.98)
1080p (60/59.94/50/30/29.97/25/24/24sF/23.98/ 23.98sF)
4K UHD 3840×2160p (30/29.97/25/24/23.98Hz), 4096×2160p (24Hz)
| | |
| --- | --- |
| Input Voltage | DC7~24V |
| Power Consumption | ≤9W |
| Power Connector | DC |
| Working Temperature | -20°C~50°C |
| Storage Temperature | -30°C~60°C |
| Install Way | ¼-20 thread points |
| Unit Size | 148Lx93Hx20D (mm) |
| Unit Weight | 245g |
| Color Box Size | 186L*124W*80H(mm) |
| Outer Carton Qty | 10 |
| Outer Carton Size | 465*200*326 (mm) |
| Gross Weight | 7.4kgs |
* Support 3D LUT Log to Rec.709, user 3D LUT Upload
* All Waves
* Waveform (RGB, Y, YUV)
* Histogram(RGB1, Y, RGB2)
* Peaking Focus Assist (Red, Green, Blue three colors optional highlight over parts of the image in focus)
* False Colors
* Zebra Exposure (10-100IRE adjustable)
* Check Field (Red, Green, Blue, Mono)
* Scan Mode (Under Scan, Over Scan)
* Anamorphic Mode (1.33x,1.6x, 2.0x, 2.0x mag)
* Image Flip (H, V, H/V)
* Image Freeze
* Center Marker
* Safe Frames (80%,85%,90%,93%,96%, 2.35:1)
* Ratio marker (4:3,13:9,14:9,15:9,16:9,1.85:1,2.35:1)
* Color Temperature Adjustment
* Nine Grid (Zoom one of the images to realize the full screen)
* Zoom (2X, 4X, 9X, 16X)
* Aspect Ratio (Auto, 16:9, 16:10, 4:3, 5:4, 1.85:1, 2.35:1, Full Screen)
* Pixel to Pixel
In the Box
FeelWorld F5 Pro X 5.5" High-Brightness HDMI Touchscreen Monitor
HDMI Cable
USB-C to USB-A Cable
Sunshade
Tilt Arm with Cold Shoe
Wrench
Limited 1-Year Manufacturer Warranty
Not in the Box

Essential Batteries & Chargers (Not Included)
Follow us @
www.kenz.com.my
www.facebook.com/kenz.com.my
www.instagram.com/kenz.com.my